Veterinary Anesthesia

Consulting
For veterinary professionals who would like advice on how to handle an upcoming anesthesia case or how to manage a case currently under their care, PEAK is happy to help!
PEAK anesthesia consultants can provide guidance on a variety of subjects, including anesthesia and analgesia protocols, monitoring equipment, managing real-time complications, and more.
A PEAK anesthesia consultation includes a thorough review of the patient's medical history as well as the hospital resources available (drugs, monitoring equipment, etc.). The PEAK consultant will then offer suggestions for premedication, induction, maintenance, monitoring, and recovery.
Our base consultation fee is $75.00 (USD) for an email, text, or phone consultation within 7 days. A more rapid response is available for an additional fee.
SCHEDULE CONSULTATION
Veterinary Anesthesia
Consulting

Services
A PEAK anesthesia consultant can provide guidance on a variety of anesthesia and analgesia topics via phone, text, email, or online video link.
PEAK Anesthesia Consulting Services
Do you have a 19-year-old cat with chronic kidney disease coming in for a dental? Schnauzer with sick sinus syndrome needing a cystotomy? Labrador Retriever with laryngeal paralysis needing a TPLO? Chihuahua with pulmonary hypertension needing heavy sedation for bite wound care? Golden Retriever with dilated cardiomyopathy needing a splenectomy?
Even if you are in the middle of a case and need help troubleshooting a complication, PEAK is here to help you provide the best care possible for your veterinary anesthesia patients.
SCHEDULE CONSULTATION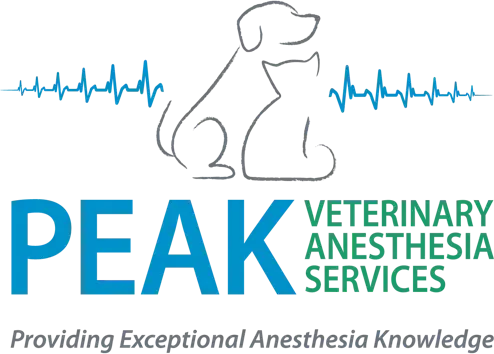 Ready to
connect?
We look forward to seeing how we can help you! Please click the Get Started button below to request information about our available services.
GET STARTED
We proudly serve the veterinary professionals, pet owners, and pets of Colorado, Wisconsin, and beyond.
We are your pre-eminent source for advanced veterinary anesthesia and analgesia services. We look forward to hearing from you!